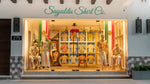 Men's fashion has always been a little tricky. Finding great pieces that are not only stylish and fashionable, but also unique can be a challenge. And when you throw sustainability into the mix, that challenge almost seems impossible
About Sayulita Shirt Co
This is why Sayulita Shirt Co was born. Our brand was birthed out of a deep desire and need to make men's clothing that broke the norm and mundane. Fashion is a means of self-expression, and a way to celebrate one's individuality. We believe that clothes should be fun, unique, and stylish, while still being comfortable. Hence, we created our brand and designed shirts that tick all these boxes. 
We have a wide variety of wearable art designs, made of the highest quality 100% cotton fabric, to make you stand out among the crowd.
What is wearable art?
Wearable art is a trend that shows no sign of going anywhere anytime soon, and for good reason. It's one thing to be a lover of visual art and enjoy pieces at a museum or in your home or office. However, being able to take artistic pieces with you by wearing them as a form of self-expression is next level. 
Wearable art makes your clothes stand out, by separating them from mainstream fashion and trends. It is designed for people who are different and want to represent that in their personal style.
Art, by nature, is a conversation starter. So, wearable art is a way of taking art beyond the museum and our homes, onto the streets, and into our everyday lives and conversations.
Sustainability in fashion
As much as we love fashion, we cannot deny its impact on the environment. Fast fashion is one of the main contributors to water and air pollution. This is why it was important for us to make our brand sustainable. 
Our shirts are made of 100% cotton. Which produces 94% less greenhouse gas emissions than synthetic fabrics. Additionally, our shirts' buttons are made of corozo nuts, which are biodegradable and non-toxic.  
We specifically chose Corozo nuts since they only fall to the ground once they are ripe, which means no deforestation is necessary for harvesting them. 
Cotton is also one of the most comfortable fabrics for clothing, especially for warmer climates. Sayulita Shirt Co shirts are perfect if you live in an area with a more tropical climate, or you're going on vacation soon! 
If you are ready to step up your style game and step into comfortable, sustainable fashion, your next wardrobe purchase should be with Sayulita Shirt Co.