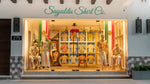 Men's fashion has always been a little tricky. Finding great pieces that are not only stylish and fashionable, but also unique can be a challenge. And when you throw sustainability into the mix, that challenge almost seems impossible About Sayulita Shirt Co This is why Sayulita Shirt Co was born. Our brand was birthed out of a deep desire and need to make men's clothing that broke the norm and mundane. Fashion is a means of self-expression, and a way to celebrate one's individuality. We believe that clothes should be fun, unique, and stylish, while still being comfortable. Hence, we...
---
Our family has owned and operated folk art, textile, and clothing stores in Sayulita since 1996. We became aware of the fact that there were virtually no colorful and high quality clothing options available for men. We thought it would be challenging to try and change that. We wanted to create something that was cool, bold, colorful, and unique, but also easy to wear. We imagined Hawaiian style shirts with beautiful artistic prints and how they would be a great way for men to express themselves without having to radically change the way they dress. Sayulita Shirt Co started in...
---
We started by introducing the shirts at my moms folk art gallery and the shirts sold like proverbial hot cakes.